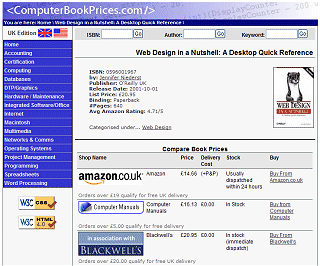 I built this site to address a need for price-comparison and reviews of computer books and manuals. The site aims to provide well categorised content to help users find the right book at the right price.
The price comparison engine employs a variety of XML and screen-scraping techniques to retrieve princing and availability information on items.
The site uses a variant of my javascript drop-down menu code that dynamically creates the menu system from a database of topics.
Work will continue in the coming months to improve the categorisation of products and to add more booksellers to the system.